Ever wondered how different life could be in a fast-paced yet organised environment? Imagine living in a country with endless opportunities yet having a less complex lifestyle. Move to a country where you could provide your family with a better standard of living, along with a world-class medical and education system. Wondering if such a place exists?
Let us put your mind at rest, by saying yes it does. The answer to your question is Malta. Malta is located in Southern Europe, in the Mediterranean Sea, south of Sicily. It is a European Union member state recognised internationally as one of the safest and secure places globally with economic stability!
If you had the option of relocating to such a country, would you take it? The reasons to consider second citizenship or second residency could vary from person to person. And if you are aiming for future security, ease of travel, and a high-quality lifestyle, Malta is your second home.
Here are the Top Reasons to Choose Malta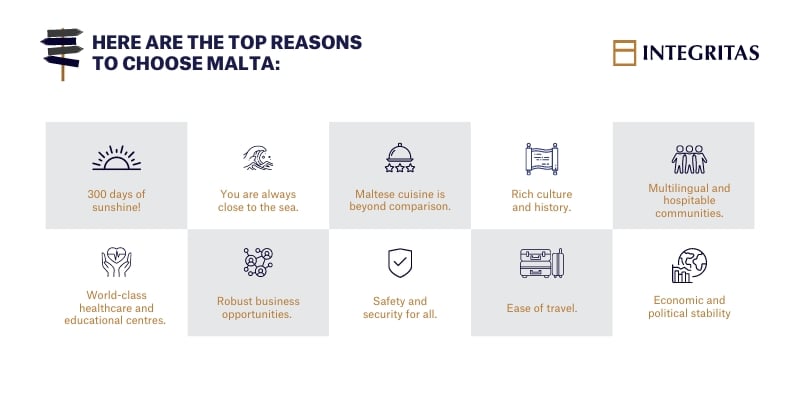 1. 300 days of sunshine!
Malta enjoys an average of eight hours of sunshine, sky, and sea for most of the year. Malta's sunny weather has been a significant factor for Malta to become one of the top tourist destinations in Europe. The island nation is a popular summer destination attracting tourists from all over the world.
2. You are always close to the sea.
The island of Malta is only around 316 km², so you are never too far away from the stunning Mediterranean Sea. Malta also has a long coastline and some of the best beaches in Europe! Malta's seaside location provides opportunities for fun and relaxation, and it is a perfect spot to launch several water activities.

3. Maltese cuisine is beyond comparison.
Maltese cuisine is a mix of Mediterranean and English cuisines, with some Italian and French influences. Malta's traditional food is hearty and healthy, with much fresh seafood, vegetables, and fruits. Malta also has several excellent restaurants that serve international cuisine.
4. Rich culture and history.
Malta is a country rich in history and culture. The island has been inhabited since the Neolithic Period, and it has a long and varied history. Malta is home to some of the most ancient temples in the world and medieval cathedrals and forts. Moreover, the UNESCO World Heritage Site of Valletta is a must-see, and there are lots of celebrations all year round.
5. Multilingual and hospitable communities.
Malta is a multilingual country with two official languages, Maltese and English. You will never have a problem finding someone who can communicate with you in your language! Malta is also a very hospitable country, and locals are always willing to help visitors.
6. World-class healthcare and educational centers.
Medical facilities and educational institutions in Malta are among the best in the world. Malta is a popular destination for medical tourism as it offers quality services at lower costs than elsewhere. Malta also provides excellent schooling opportunities, and education is compulsory until age 16.
7. Robust business opportunities.
Malta has an excellent business environment with ample opportunities for foreign investors. Various industries are booming, especially Real Estate, iGaming, and Medical Cannabis. Moreover, the country is launching the Start-up Visa Programme to invite more entrepreneurs! Malta also offers some incentives and support measures for businesses.
8. Safety and security for all.
Malta is one of the safest countries in the world. The Maltese police force is highly professional, and Malta has a very low crime rate. Malta also offers a number of security measures for its citizens, including a well-developed national ID card system.
9. Ease of travel.
Malta is a member of the Schengen Agreement, which allows for visa-free travel for citizens of most European Union countries. Malta is also located close to other popular tourist destinations in Europe, so it is perfect for exploring as much of the continent as possible.
EUROPE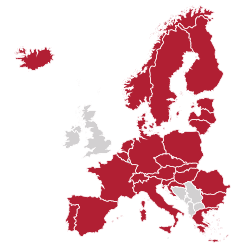 10. Economic and political stability.
Malta is a stable and prosperous country with a strong economy. The country has been a member of the European Union since 2004, and it is a eurozone member. Malta also has a well-developed political system, and it is a democracy with free and fair elections.
Make Malta your Second Home
There are countless reasons to choose Malta as your second home. And once you have set your heart in this island nation, you can explore the many ways to become a permanent resident or citizen here! The Malta Permanent Residency Programme (MPRP) is one of the leading residency programmes in Europe. Also, the prestigious Malta Citizenship by Naturalisation for Exceptional Service by Direct Investment has been attracting many investors across the globe.