Although often thought of as a Mediterranean holiday destination, Malta is becoming increasingly popular with EU and foreigners (non-EU citizens) looking to purchase a property. One of the main attractions of buying property in Malta for foreigners is the climate. Additionally, Malta offers a relaxed lifestyle, beautiful scenery and a rich cultural heritage.
The island also has a strong economy and is well connected, with regular flights to major European cities. When it comes to buying property in Malta, foreigners can choose from a variety of options. If you are a foreigner who wants to acquire property in Malta, here are a few things to note.
Can foreigners buy property in Malta?
The short answer is YES. However, it is essential for non-EU citizens or foreigners who want to buy property in Malta to comply with the following conditions:
Obtain an Acquisition of Immovable Property (AIP) permit from the Ministry of Finance in Malta.

The property's minimum value should be €143,410 for flats or maisonettes or €247,701 for any other property.*

The buyer and family should use the purchased property for residential purposes.
*These values are based on L.N. 308 of 2021 and are subject to annual change according to the Property Price Index.
Only one property can be purchased (for both EU and non-EU citizens), except if the properties are situated in Special Designated Areas (SDAs). Since foreign investment is encouraged in SDAs, there is no limit to the number of properties you can buy. An AIP permit is issued within thirty-five (35) days, provided the application is complete and correct.
What are the other circumstances when the AIP permit is required?
Apart from foreigners who want to purchase property in Malta, the AIP permit is also necessary for the following:
Those who want to purchase property in Malta for purposes other than residential, whether the buyer is an EU or non-EU citizen.

EU citizens who want to purchase property in Malta as a second home and not a primary residence, unless they have resided in Malta for more than five (5) years.
When is the AIP permit not required?
The AIP permit is not required in the following circumstances:
Properties located in Special Designated Areas.

An EU citizen who intends to buy the property as a primary residence.

An EU citizen who has resided in Malta for more than five (5) years.
Suggested reading: Best Places to Buy Property in Malta
What are the necessary documents to be submitted with the application for the AIP permit?
Applicants for the AIP permit must attach the following documents along with the AIP permit application:
Two passport-sized photos

Copy of the Promise of Sale or the "Konvenju"

Photocopy of the valid passport's information page
Step-by-Step Guide to Buying Property in Malta as a Foreigner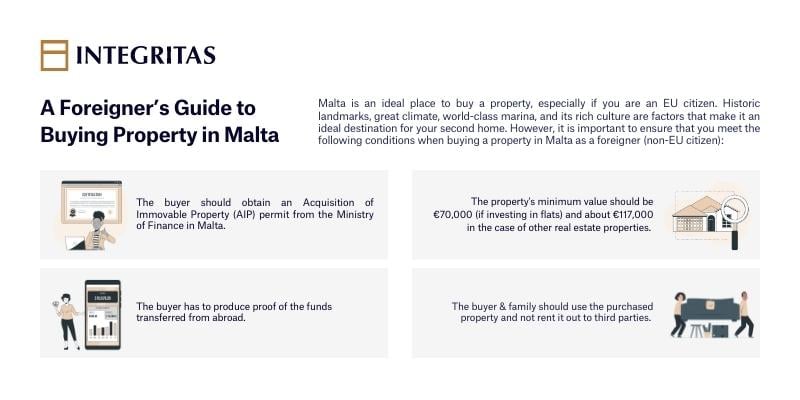 Here are the essential steps in the process of buying a property in Malta as a foreigner:
Obtain the required AIP permit, unless you want to purchase property in a Special Designated Area.

Get a lawyer specialising in Malta's property law and a notary public, preferably someone who specialises in property search and assists in the legal steps of the purchase process.

Start with your property search. If you are outside Malta, searching for online property listings is more accessible. It is also advisable to visit Malta to personally search for your ideal property.

Negotiate with the seller and make an offer. Your lawyer can help you enter into a contract or agreement with the seller.

Enter into a Promise of Sale, known in Malta as "Konvenju", with the seller. A Konvenju is a written contract or promise to complete the sale within a specified timeframe.

Pay 1% of the Stamp Duty and the percentage (usually 10%) of the agreed total price as a deposit.

If necessary, apply for a mortgage or bank loan.

Before carrying out a final deed of sale, the notary public will search for the property's legal title in the Public Registry and Land Registry.

A final agreed-upon agreement will be drafted, signed, and registered with the Public Registry.

Pay for the amount of the property sale and move into your second home in Malta!
What are the expected expenses when buying property in Malta as a foreigner?
If you want to finalise your plans to acquire property in Malta, you should consider the following expenses, apart from the price of the property:
€233 AIP permit fee (if applicable)

5% stamp duty, 2% for properties in Gozo until the end of 2022

Approximately 1% to 3% notarial fee

About €600 searches and registration fees

Cost of the property (largely dependent on the type and the location)
The seller shoulders the agent's fees.
Retirement and Residence Programmes in Malta
Malta is not just a vacation destination, but it also favours retirees. The government offers retirement and residence programmes. Thousands of foreigners reside in Malta every year, ensuring the stable growth of the real estate industry.
The Malta Global Residence Programme (MGRP) refers to applicants who can purchase a property valued at €275,000. This programme includes benefits like indefinite residence in Malta, free access to other European countries and a 15% tax rate on incomes registered outside and declared in the insular state.
Malta Citizenship by Naturalisation for Exceptional Services by Direct Investment
The Malta Citizenship by Naturalisation for Exceptional Services by Direct Investment issues Maltese passports for investors after making a qualifying investment in the nation.
This programme suggests a direct government contribution of a minimum of €600,000 or €750,000, depending on the residence period selected (36 months or 12 months, respectively). In addition to this, the investor has to either purchase a residential property with a minimum value of €700,000 or rent a residential property with a minimum value of €16,000 and also donate €10,000 to a registered philanthropic, scientific, sport, cultural, artistic, or animal welfare non-governmental approved society or organisation.
Purchase Your Second Home through Endevio
Property in Malta is a valuable asset. With the country's thriving tourism industry, investors looking for rental returns are never disappointed.