The Malta Digital Nomad Visa or Malta Nomad Residence Permit (MNRP) is designed to attract remote workers and digital nomads to the country. Through the Nomad Residence Permit (NRP), digital nomads can now enter Malta and travel around Europe.
Duration of the Malta Nomad Resident Permit
Introduced by the Residency Malta Agency in June 2021, the Malta Digital Nomad Visa allows individuals working remotely using telecommunications technologies to enter and stay in Malta for a year. Applicants who are staying for less than a year will be given a National Visa valid for 91 days–180 days, depending on the intention of their duration of stay.
Benefits of Malta Digital Nomad Visa for Digital Nomads
The Nomad Residence Permit has been warmly welcomed by the digital nomad community, with many citing Malta's excellent quality of life and Mediterranean lifestyle as key reasons for choosing the island as their base.
Since Malta became an iGaming hub, more and more have started exploring the island nation. The cosmopolitan country has the multi-cultural life that young digital expats look for! Malta's corporate culture has also evolved into a fun and convenient space for employees. Imagine working as you lounge on Malta's most beautiful beaches!
With the NRP, digital nomads can:
Experience the island life without lagging on work.

Travel easily to Europe, North Africa, and the Middle East.

Access best-in-class healthcare.

Discover Malta's rich history, heritage, tradition, culture, and arts.

Receive support and consultations for businesses.
Malta is also the first EU country with a 5G mobile internet service nationwide. Connectivity is never a problem for freelancers and remote workers! Moreover, English is one of the country's official languages so communication is a non-issue.
Who is eligible for the Malta Digital Nomad Visa?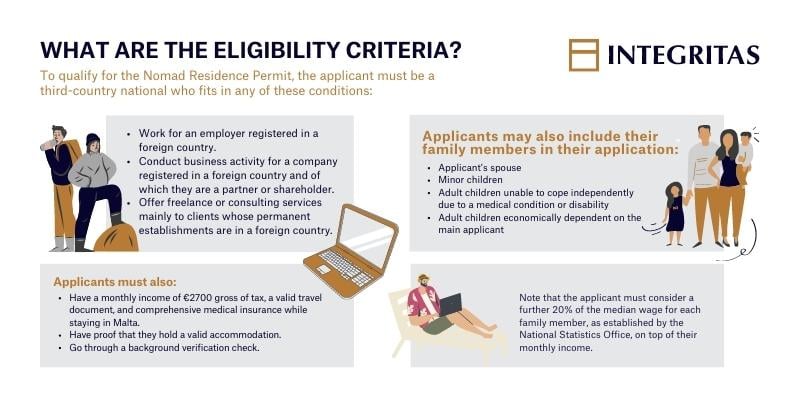 To qualify for the Malta Digital Nomad Visa, the applicants must prove that they can work remotely through telecoms. Applicants must be third-country nationals who fit in any of these categories:
Working for an employer registered in a foreign country (with a contract of work);

Conducting business activity for a company registered in a foreign country and of which they are a partner or shareholder; or

Offering freelance or consulting services mainly to clients whose permanent establishments are in a foreign country (applicants must have contracts of work with these establishments).
A contract of work with a foreign employer but the services are intended for a Maltese subsidiary will not be considered for the NRP.
Apart from the above, applicants must also provide proof of the following:
A monthly income of €2700 gross of tax

Valid travel documents

Comprehensive medical insurance while staying in Malta.

Valid accommodation.
Applicants must also go through and pass a background verification check.
The following family members may also be included in the application:
Applicant's spouse

Minor children

Adult children unable to cope independently due to a medical condition or disability

Adult children economically dependent on the main applicant
The applicant must consider a further 20% of the median wage for each family member, as established by the National Statistics Office, on top of their monthly income.
What are the Required Documents?
The Nomad Residence Permit application consists of the following:
Application Form N1

Application Form N2 (if applicable)

Application Form N4

Letter of Intent

International Passport

Employment contract and official tax documentation in case of employment

Documentary evidence of all business owned in part or whole in case of self-employment

Documentary evidence of all freelance activities in case of freelance

Europass CV

Bank Statement

Local or international health insurance policy (once application is approved by the Agency)

Health declaration

Marriage Certificate

Birth Certificate of family members (if applicable)

Change of Name Documents (if applicable)

Affidavit of Dependency (if applicable)

Award of custody or guardianship (if applicable)

Proof of Accommodation (once application is approved by the Agency)
How long does the process take?
The processing of applications is expected to take up to 30 days after all the required documentation is submitted to the Agency. The entire process includes the following steps:
Completion of documents

Submission of application through email

Application review

Receipt of Nomad Residence Permit or National Visa
How expensive is the Malta Digital Nomad Visa?
The government application fees for the Nomad Residence Permit cost only €300 for the main applicant and €300 for every additional applicant. Legal fees vary according to the complexity of the application.
List of countries allowed to apply
Here is a list of countries where applicants have to hail from, to require an entry Visa:
| | | |
| --- | --- | --- |
| ALGERIA | BURKINA FASO | DEMOCRATIC REPUBLIC OF CONGO |
| ANGOLA | BURMA/MYANMAR | DJIBOUTI |
| ARMENIA | BURUNDI | DOMINICAN REPUBLIC |
| AZERBAIJAN | CAMBODIA | ECUADOR |
| BAHRAIN | CAMEROON | EGYPT |
| BANGLADESH | CAPE VERDE | EQUATORIAL GUINEA |
| BELIZE | CENTRAL AFRICAN REPUBLIC | ERITREA |
| BENIN | CHAD | ETHIOPIA |
| BHUTAN | CHINA | FIJI |
| BOLIVIA | COMOROS | GABON |
| BOTSWANA | COTE D'IVOIRE | GAMBIA |
| GUINEA-BISSAU | CUBA | GHANA |
| INDIA | GUYANA | GUINEA |
| KAZAKHSTAN | INDONESIA | HAITI |
| KUWAIT | JAMAICA | JORDAN |
| LEBANON | KENYA | KOSOVO |
| LIBYA | KYRGYZSTAN | LAOS |
| MALDIVES | LESOTHO | LIBERIA |
| MONGOLIA | MADAGASCAR | MALAWI |
| NAMIBIA | MALI | MAURITANIA |
| NIGER | MOROCCO | MOZAMBIQUE |
| OMAN | NAURU | NEPAL |
| PAPUA NEW GUINEA | NIGERIA | PALESTINE |
| RUSSIA | PAKISTAN | QATAR |
| SAUDI ARABIA | PHILIPPINES | SAO TOME AND PRINCIPE |
| SRI LANKA | RWANDA | SIERRA LEONE |
| SWAZILAND | SENEGAL | SURINAME |
| TANZANIA | SOUTH AFRICA | TAJIKISTAN |
| TUNISIA | THAILAND | TOGO |
| UGANDA | TURKEY | VIETNAM |
| UZBEKISTAN | TURKMENISTAN | ZIMBABWE |
| ZAMBIA | | |
Third-country nationals who must have an airport transit visa when passing through an EU airport international transit area need to hail from:
| | | |
| --- | --- | --- |
| BANGLADESH | ERITREA | ETHIOPIA |
| GHANA | NIGERIA | PAKISTAN |
| SRI LANKA | | |
Endevio is a Malta-based firm delivering excellence in the international market. We work with high-net-worth individuals and foreign nationals with their Malta endeavours. If you are a digital nomad who wants to live the island life in Malta, our experts can help you!