While citizenships are a birth right and given out based on birth, individuals can choose a second home in other countries. The most common reason for individuals to do so is that they can optimise and gain maximum benefits.
One of the most sought-after countries for dual citizenship is Malta. The location with a scenic coastline, booming economy, and the fact that the country is an EU member make it ideal for citizens from all walks of life. Since Malta is a part of the European Union, a Maltese citizen can travel and reside freely in any EU member state.
Malta has permitted dual citizenship without restriction since 2000.
Want to know how it works?
The process to acquire citizenship in Malta involves a few steps. For the most part, the general process includes the following:
The eligibility criteria

–

The most common ways to gain citizenship are by descent, marriage, investment or naturalisation.

Documents required for submission and approval

– Birth certificate, marriage certificate (if married and applying for the spouse, too), address proof, and government-issued ID. In case the application is for citizenship by descent, you may also need to collect the birth, marriage, and death certificates of every relevant family member to whom you are claiming citizenship.

Submission to the appropriate authority

– Mail your papers to the local consulate or present your application in-person at a live interview based on the application and requirement.
Why Malta?
Apart from being an EU member, Malta is popular with its scenic landscape and booming economy. The country provides an ideal environment to start new businesses. Furthermore, Malta provides everything from peace and security to global power to enhance the daily lives of its citizens.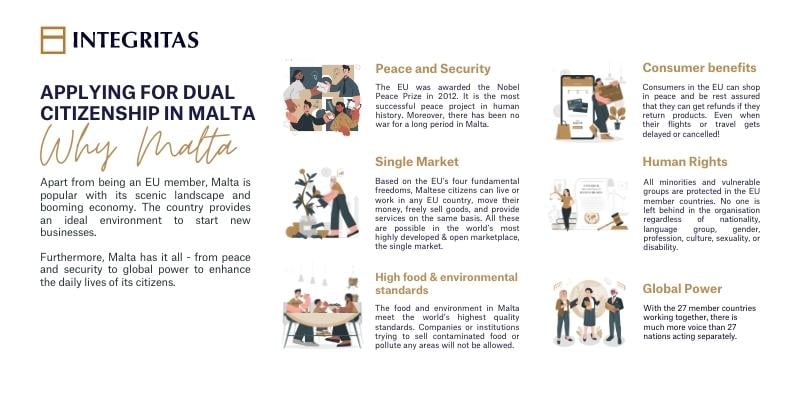 Peace and Security
The EU was awarded the Nobel Peace Prize in 2012. It is the most successful peace project in human history. Moreover, there has been no war for a long period in Malta.
Single Market
Based on the EU's four fundamental freedoms, Maltese citizens can live or work in any EU country, move their money, freely sell goods, and provide services on the same basis. All these are possible in the world's most highly developed and open marketplace, the single market.
High food and environmental standards
The food and environment in Malta meet the world's highest quality standards. Companies or institutions trying to sell contaminated food or pollute any areas will not be allowed.
Consumer benefits
Consumers in the EU can shop in peace and be rest assured that they can get refunds if they return products. Even when their flights or travel gets delayed or cancelled! Additionally, goods in the EU are required to meet the world's best quality and safety standards.
Human Rights
All minorities and vulnerable groups are protected in the EU member countries. No one is left behind in the organisation regardless of nationality, language group, gender, profession, culture, sexuality, or disability.
Global Power
With the 27 member countries working together, there is much more voice than 27 nations acting separately.
Citizens are protected against unfair treatment in the workplace, the downsides of globalisation, and risks when travelling. Businesses are also supported and trained. Generally, the EU focuses on what is good for the people.
European citizens are aware of the EU's role in bringing peace between European countries and between European countries and their neighbours. This is not something all European countries had experienced before joining the EU.
The European Union's influence has been felt in many areas of life. European states also find it much easier to cooperate in an organisation like the European Union. The EU promotes cooperation and collaboration among European countries and provides a shared identity for its member states.
Why
Endevio

?

Applying for citizenship varies in every country, but the end goal is acquiring second citizenship. Upon obtaining it, you get to enjoy all the benefits that dual citizenship entails. But becoming a dual citizen could be complicated without proper and professional guidance. Malta has the Citizenship by Naturalisation for Exceptional Services by Direct Investment to help investors seeking dual citizenship.

Endevio has experts with in-depth knowledge on dual citizenship. Our immigration services are available to international clients, focusing on citizenship and permanent residency in Malta.