Despite its size, Malta has a robust economy primarily based on tourism, manufacturing, and financial services. Malta's proximity to Europe, the Middle East, and Africa makes it an ideal location for businesses, and the country has attracted significant foreign investment. Malta is considered one of the most prosperous countries in the Mediterranean region.
Malta has been ranked as one of the safest countries in the world. The island country also assures economic stability for non-EU citizens seeking permanent residency. Malta prides itself on business success and quality of life for its citizens.
Malta has been a member of the European Union since 2004, with a democratically elected government every five years. The country's EU membership has helped promote economic stability.
The International Monetary Fund classified Malta as an advanced economy. Additionally, the World Economic Forum also considered it a high-income industry.
Malta ranked as the 27th freest economy in the world based on the 2022 Index of Economic Freedom. The Maltese economy grew strong in 2021, with the GDP growth at 10.4%, a strong indication of business improvements and an increase in investment and services exports.
The forecasted GDP growth for 2022 is at 4.9%, with an expected increase in domestic consumption, exports, and tourism activities. The expected contributors to the country's GDP in 2022 are investments and goods exports.
Malta's Economic Strengths
The country is highly industrialised and service-based, giving business people and workers many opportunities. As a high-income country, according to the World Bank, Malta's economy has the following strengths: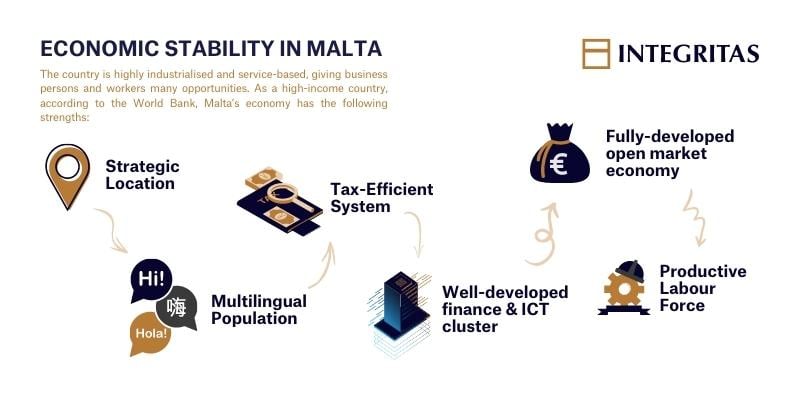 Strategic location

Multilingual population

Tax-efficient system

Well-developed finance and ICT cluster

Fully-developed open market economy

Productive labour force
Fitch Ratings has re-affirmed Malta's A+ rating. With its strong geographical position paired and stable GDP growth, Malta has positioned itself as a profitable domain to conduct business even during the global recession.
Political Stability of Malta
Aside from its economic strengths, Malta's political stability is another factor that brings tourism and investment to the country. Malta scores high in property rights, judicial effectiveness, and government integrity.
Malta ranks 30th out of 194 countries in terms of Political Stability, with an index score of 0.95. This score indicates that disorderly transfer of government power, violent demonstrations, social unrest, terrorism, international tensions, and armed, ethnic, religious or regional conflicts are least likely to happen.
Malta also scored strongly in the exercise of Political Rights. The country's index score is 2, indicating solid rights pertaining to the electoral process, political participation, and government function.
Malta's citizens also strongly exercise their civil rights. The island nation's Civil Liberties index score is 1. This means that citizens can exercise freedom of expression, belief, and organisational rights, follow the rule of law, and have personal autonomy without any hindrance.
Invest in Your Life through Malta Permanent Residency
Malta helps non-EU/EEA/Swiss nationals to move into the country through the Malta Permanent Residency Programme (MPRP). The MPRP allows you to invest in Malta and become a permanent resident.
You and your family can maximise lifetime benefits, including visa-free movement in the Schengen zone for 90 days out of 180, visa-free travel to multiple countries, and real estate and business opportunities.