Don't let Malta's size deceive you. The island is significant in terms of job opportunities and career advancements.
Malta offers a package deal; Mediterranean lifestyle, a vibrant social scene, idyllic weather, a buoyant employment market and lucrative prospects.
Culture & Climate in Malta
The people of Malta have a positive reputation for being a welcoming and open society. Due to the size of the island and the friendly disposition, it is easy to make friends and build connections.
Throughout the island, you will see influences from a diverse set of cultures, which date back to a period in Malta's history. Since Malta lies 93km south of Sicily and 288km north of the Sahara, the island's identity is an exciting fusion of European and African civilisations.
The Maltese language is a combination of Semitic and Romantic origin, written in Latin characters. It helps that English holds the status as an official language along with Maltese. The majority of locals, 88% to be exact, are very fluent in the international language, making it easy to adapt to Maltese life. Also, it is worth noting that Malta hosts a vibrant expatriate community that continues to grow each year.
Malta's climate is one of its most enviable characteristics, with a year-round temperature averaging at 23 °C during the day. Winter can be slightly wet and chilly at most, but more pleasant than any other country in Europe. On average, the island enjoys 12 hours of sunshine in a day, totalling to around 3,054 hours of sunlight per year. It might not seem like much until you compare it to the 1,633 hours of sun in London.
Read more: Discover Malta

Work Permits & Visas in Malta
EU CITIZENS
If you are an EU/EEA/EFTA citizen, the process is straightforward and within your rights to settle on the island. You are not required to obtain a work visa.
REST OF THE WORLD
Here is where it gets a little tricky. There are two options available, which we will outline for you.
Malta Citizenship by Investment - this option is viable if you have the budget to invest in citizenship. This EU approved program offers second citizenship options to families wishing to relocate for personal or business reasons. It is one of the most competitive programs of its kind in terms of cost, return on investment, time frame and benefits gained.

Work Visa (The Single Permit) - To be eligible for this, your employer must apply for a work permit on your behalf. The process usually takes anywhere from a few weeks to a few months, depending on the permit required.
Related: Work permit in Malta
Malta Work Conditions
The typical Maltese workweek is 40 hours long. Generally, office hours are from 8-5, however many iGaming companies are known for their flexible hours.
By law, you are entitled to 26 days of leave, and you also benefit from 14 public holidays (unless they fall on a Saturday or Sunday). Additionally, you are allowed two weeks of sick leave per year, thanks to Malta's social security system. With regards to maternity leave, women are given 14 paid weeks and 4 weeks unpaid.
The norm for probation is six months, and during that time, the employer does not need to provide a reason for termination. Once you have passed probation, the amount of notice period required depends on how long you have worked there.

Health Insurance in Malta
As an EU citizen working in Malta, you have the right to benefit from a top health care system with no charge. If you are not an EU resident, third-country nationals who subscribe to national insurance may be entitled to public health care. In the case that you are not allowed to this, you should ensure to obtain private insurance. Find out more about the Contributory social benefits for TCNs here.

The Economy of Malta
Since Malta is a member of the EU, it adopted the Euro as its official currency in 2004. Malta's economy has gone from strength to strength, and this is reflected in the healthy job market.
Inflation and public debt are low, while GDP growth continues to outperform the EU average by almost double.
Unemployment hovers around 4% making it one of the lowest in Europe and an excellent option for those looking to gain work experience abroad.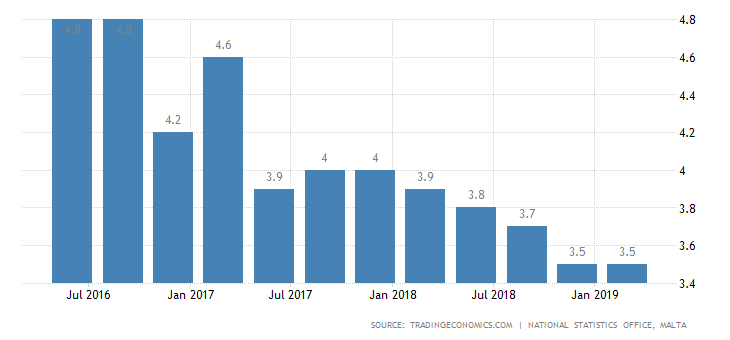 Malta Job Market
Malta's job market is thriving and offers thousands of great opportunities for both local and foreign applicants. Specific industries are continuously flourishing on the island.
If you are searching for positions within the iGaming, Fintech, Blockchain or Cryptocurrency sectors, opportunities are abundant. Likewise, the finance and IT markets offer a big pool of possibilities too.
Most expats who relocate to Malta seek jobs within these major industries. The relative ease of finding work in Malta makes it an even more desirable option.
Salary & Taxes in Malta
The average salary in Malta, according to the National Statistics Office, is €19,390 per annum. An average salary for a Manager is €35,584; a Financial Executive €50,000; an IT Director can expect to earn a three-figure salary; and a CEO of a gaming company over €200,000.
Related: Malta Tax Structure
Cost of Living in Malta
In comparison to the big cities in Western Europe, Malta's cost of living is relatively affordable. Rent varies, depending on the locality you choose to live and is one of the highest costs of living. In general, you can rent a fully-furnished one-bedroom in the capital city of Valletta for around €950/month (a similar property in London would set you back a minimum of €1,800).
It is also possible to maintain a social lifestyle as restaurants, bars, and other activities are affordable and cater to various budgets. A pint of beer is €2.50, a 3-course meal in a good restaurant will cost you €50 and internet will set you back around €30 per month.
Related: What is it like to Live in Malta?

Best Places to Live in Malta
The cities of Valletta, St. Julians and Sliema, are the most sought after neighbourhoods for locals and expats alike. The popularity is reflected in the rental prices, which are among the highest on the island. If you love being in the heart of things, with plenty of entertainment options and close to the sea, these locations are ideal.
Gzira, Ta'Xbiex, Msida and Floriana are the surrounding cities and offer slightly cheaper rent, but they are still central and close to most amenities.
Swieqi and San Gwann are two central villages which offer cheaper rent, yet are easily accessible and have more of a suburban feel.
The cheapest accommodation is found in the south of Malta or Gozo. These options are ideal, especially if you are working remotely and want to keep expenses down.
St Paul's Bay, Xemxija, Mellieha are found in the north of Malta. These coastal towns are lovely in the summer months and are still on the cheaper side in terms of rental prices. If you don't mind a longer commute, then this is an option to consider.