It is common for travellers to go through endless queues when travelling overseas, especially for visa applications and renewals. What if you had an option to skip those tedious processes? You could travel freely to more countries and access more business opportunities! You could even finally find the perfect country where you would want to spend the rest of your life in.
All these are possible in the Schengen Area. Yes, it is that area that you usually come across when searching for immigration programmes in Europe. Let us travel to the Schengen Area and discover the numerous benefits waiting for you.
This article will provide an all-encompassing rundown of the Schengen Area and how to acquire a Schengen Visa.
What is the Schengen Area?
The "Schengen Acquis," or the set of rules and regulations, regulates the internal border controls abolishment and strengthens the external border controls. The Acquis holds the Schengen Agreement, Convention and Accession Agreements, Treaties, Regulations, and Directives, the Decisions, Delegated Acts, Implementing Acts, and the case-law of the Court of Justice.
Signed on June 14, 1985, the Schengen Agreement is a treaty that abolished national borders to participating countries. Now, the "Schengen Area" is the world's largest visa-free zone. Europe's most important borderless area, including 22 European Union member countries and four non-EU countries. All the member countries act as a single jurisdiction for visas globally.
The Difference Between the European Union and the Schengen Area
The
European Union
started with only six countries. Treaties after treaties, the EU has now 27 member countries.
| | | | | |
| --- | --- | --- | --- | --- |
| Austria | Denmark | Hungary | Malta | Slovenia |
| Belgium | Estonia | Ireland | Netherlands | Spain |
| Bulgaria | Finland | Italy | Poland | Sweden |
| Croatia | France | Latvia | Portugal | |
| Republic of Cyprus | Germany | Lithuania | Romania | |
| Czech Republic | Greece | Luxembourg | Slovakia | |
Like the Schengen Area, the EU hosts free trade across borders to enhance the member states' global economic growth and monetary union. All member countries have the same currency: Euro (€). When part of the Schengen Area, you can also travel freely to Iceland, Liechtenstein, Norway and Switzerland, which are not part of the EU.
Therefore, the Schengen area is primarily comprised of 26 European states that have come together to abolish passport and border controls. Visitors to the EU effectively mean that the Schengen Area acts as a single country. Once you enter one Schengen country, you have entered them all.
The 26 Schengen Nations
Out of the 26 Schengen Area nations, three EU member countries have opted not to apply or fully apply the Schengen rules. These countries are Cyprus, Ireland, and the United Kingdom.
| | | | | |
| --- | --- | --- | --- | --- |
| Austria | France | Latvia | Norway | Sweden |
| Belgium | Germany | Liechtenstein | Poland | Switzerland |
| Czech Republic | Greece | Lithuania | Portugal | |
| Denmark | Hungary | Luxembourg | Slovakia | |
| Estonia | Iceland | Malta | Slovenia | |
| Finland | Italy | Netherlands | Spain | |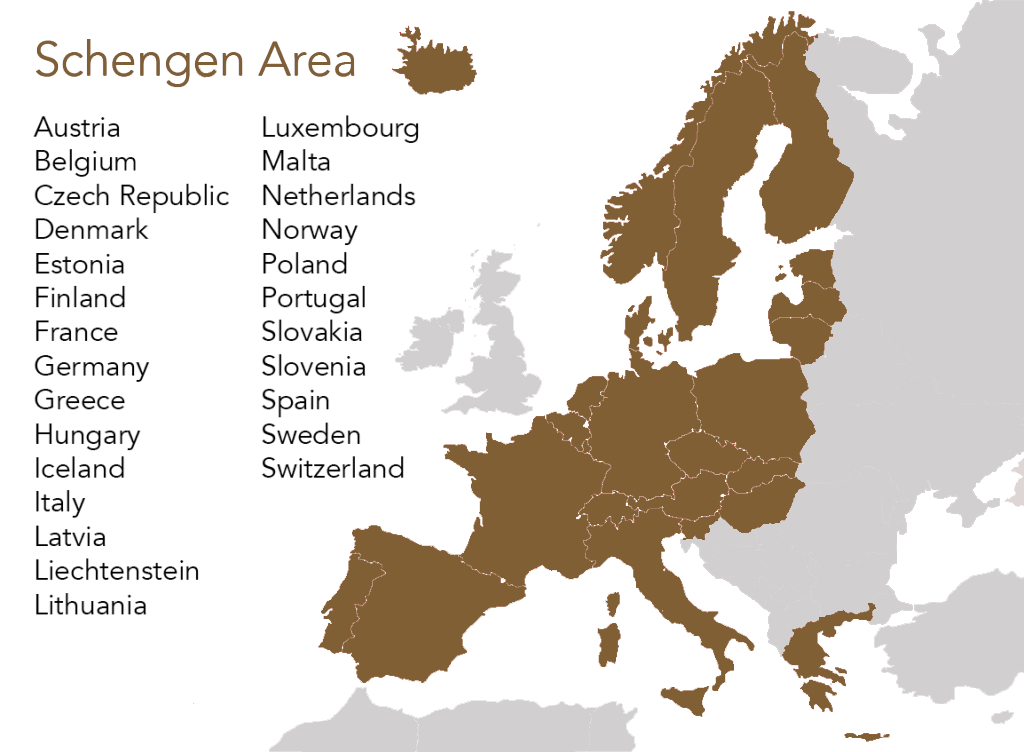 What is the Schengen Visa? What are the benefits?
The Schengen Visa allows free movement within the Schengen Area, the European Union Schengen members, and European Free Trade Association Schengen members.
There are three types of Schengen Visa: Uniform Schengen Visas (USV), Limited territorial validity visas (LTV), and National Visas. Under the USV, there are the A and C categories for Airport Transit Visa and Short-term visa.
For LTV holders, you may travel only in the Schengen State that has issued your visa, as well as the certain Schengen States specifically mentioned in the application. The D category under the National Visa is for individuals who plan to study, work, or permanently reside in Schengen countries.
When applying for the Schengen Visa, you may choose the following options:
Airport Transit

Transit

Tourism

Visiting Family or Friends

Business

Official Visit

Medical reasons

Study Purposes

Cultural, Sports and Film Crews

Other
You will always need a valid passport to travel to any Schengen country. Also, if you reside in a non-EU country, you will be required to obtain a stamp on your passport, regardless of the country you enter.
The benefits of a Schengen visa can be as simple as travelling from Germany to Luxembourg without having to go through passport control each time you cross the border. Or more complex things like moving goods and trades across borders. The Schengen area has also reduced the time it takes to move goods across Europe.
You will not need to knock on embassy or consulate doors each time you plan to leave the country. You may travel across Europe without needing to answer any questions.
The Schengen Visa saves you time. A lot of time.
How do you acquire a Schengen Visa?
First, knowing which type of Schengen Visa you need is crucial. Next, you have to find out where you need to apply. Depending on your destination country, Schengen regulates visa submission in your country of residence. You must file your Schengen visa application in their embassy, consulates, or a visa centre.
You also have to find the most suitable time to apply. The earliest would be six months before you start your planned trip, and the latest would be 15 working days. Ideally, you must apply at least three weeks before your trip.
There are also European immigration programmes that provide lifetime visa-free access to the Schengen area. The Malta Permanent Residency Programme (MPRP) is perfect for non-EU/EEA/Swiss nationals who want to live and settle in one of Europe's most dynamic economies: Malta.
Through the Malta Citizenship by Naturalisation for Exceptional Services by Direct Investment, you may acquire citizenship in the country and obtain a Maltese passport. Malta is a European Union and Schengen Area member country. With your permanent residency or citizenship, you can freely travel across the Schengen Area and other countries across the globe.
The Schengen area gives you a long list of opportunities. It makes you a citizen of the world who enjoys freedom of movement. With multiple entries into the Schengen countries, you can conduct further international business possibilities. Your family can also live, work and study in one of the European countries.
The Schengen Area continues to be a popular destination for tourists and those who want to relocate. Our team is here to assist you if you need help navigating through the Schengen Area or have any questions.