Judging by the private yachts, private jets, registration of family offices and those that have acquired citizenship through investment, Malta is quietly attracting the ultra-rich by the droves.
The ultra-rich, technically defined as Ultra-High-Net-Worth Individuals, are those whose investable wealth exceeds a minimum of US$50 million. However, in the realm of Ultra-High-Net-Worth Individuals, US$50 million will merely get you on the ladder.
While no doubt having money is better than not having it, great wealth brings its own problems. Once a person accumulates significant wealth, the focus becomes one of legacy. As a result, family offices offer a one-stop solution to asset management, philanthropy, and succession planning.
The ultra-rich tend to gravitate towards common factors, namely political and economic stability. The choice of jurisdiction to set up a family office with which they identify is crucial. Now, why is Malta among the top picks?
Fastest-growing Economy in Europe
The European Commission published a complete set of macroeconomic forecasts for the EU and its Member States. After a considerable decline (-8.2%) in 2020, Malta's real GDP growth is estimated to have rebounded strongly to 5.9% in 2021. By 2022, Malta's growth is expected to pick up again as domestic demand recovers, supported by the Recovery and Resilience Plan implementation. Real GDP is forecast to grow by 6.0% in 2022 and 5.0% in 2023.
FitchRatings also affirmed Malta at A+ in 2021. The country's economy is supported by high per-capita income levels, a significant net external creditor position and a pre-pandemic record of strong growth and sizeable debt reduction. Fitch also rated with a Stable Outlook as Malta's GDP growth is expected to recover. The country's debt will also stabilise after the fiscal shock brought by the pandemic.
Malta Citizenship by Naturalisation for Exceptional Services by Direct Investment
Malta is also the favourite choice to acquire citizenship. The Malta Citizenship by Naturalisation for Exceptional Services by Direct Investment allows foreign nationals to invest in the country's economy in exchange for naturalisation after one or three years, depending on the investor's chosen route. This citizenship, in turn, grants full rights within the entire European Union and one of the world's most powerful passports.
The programme initially offers residence status in Malta. Applicants may opt for either of these two routes:
Apply for citizenship after one year of holding residency status in Malta with a non-refundable investment of €750,000 to the National Development and Social Fund set up by the Government of Malta (plus €50,000 per family member included in the application).

Apply for Maltese citizenship after three years with a lower non-refundable investment of €600,000 (plus €50,000 per family member included in the application).
Investors must also make a charitable donation of €10,000 to any non-governmental organisation registered in the country. Also, they have to lease a residential property in Malta for a minimum annual rent of €16,000.
Alternatively, investors can purchase a residential property in Malta for at least €700,000. Such qualifying property is to be held for at least five years from the date of the certificate of naturalisation.
The programme is far from cheap. Also, let's call a spade a spade; Maltese citizenship is a status symbol.
Aviation and Maritime
There are other symbols of wealth if you know where to look. In fact, within a few minutes of landing at Malta International Airport, you can see clues that Malta is a hidden playground for billionaires. Comlux, VistaJet and DC Aviation, three of the world's largest private jet operators, have bases here.
A 20-minute drive to the Grand Harbour reveals Camper & Nicholsons flagship superyacht marina set against the stunning backdrop of Malta's capital city Valletta featured in numerous Hollywood movies. Berthed here are some of the most luxurious superyachts in the world.
On the one hand, Malta is a popular vessel registry with its long-lasting maritime tradition and culture. On the other hand, the aviation industry has been growing steadily with a solid legal foundation to sustain. Malta's benefits to both industries are geographical, reputational, and financial.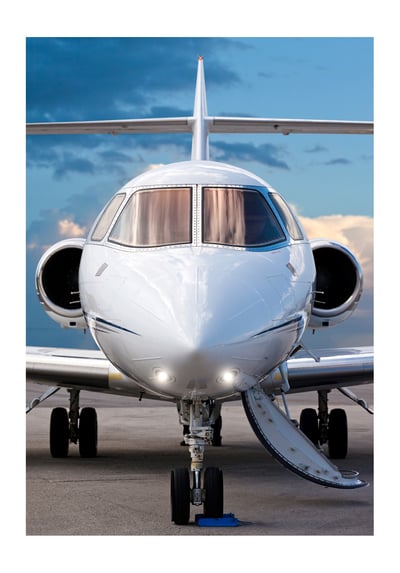 Luxurious Private Life
Ironically, and notwithstanding Malta's various UNESCO world heritage sites and burgeoning economy, Malta still feels low-key and in the right way. Unlike their lesser affluent mortals, Ultra-High-Net-Worth Individuals prefer to lead invisible lives. This combination of an advanced economy coupled with a Mediterranean flair seems to be the winning formula. Malta ticks all the boxes for those who want to keep a low profile but still enjoy luxury trappings.