High-net-worth individuals are always bombarded with guidance and advice. These advisers could be legal, fiscal, trustees, investment advisers, or security advisers. Despite these differences, they all scramble over one another for the role of trusted adviser to the family. This can make the whole exercise cumbersome, bewildering, and pointless.
How then do we fix this issue?
It can be done with a privately held wealth-management advisory firm that offers services to high-net-worth individuals and investors who belong to affluent families. These offices aim at helping their clients with wealth preservation and management (growth and transfer across generations).
Family offices mainly offer guidance and assistance in investment, asset management, business succession planning, governance, wealth transfer, insurance, charitable giving, financial and estate planning, legal and tax services.
What are multi-disciplinary offices?
We could say they are one-stop shops for all advice and management-related queries and management. High-net-worth individuals often require a diverse range of professional and administrative services to meet the complex planning needs with extensive business interests, property, and investments. It is always easy and practical to approach one agency than multiple professionals.
Most family offices are essentially asset managers focused on the needs of wealthy families. Hence, the more complex the family's needs, the more difficult it is for families to find the right external support.
The services include:
Family governance

Fiduciaries

Legal and tax planning

Aggregated reporting

Family business

Property investment and management

Banking and cash management

Philanthropy

Portfolio investments
Why a multi-disciplinary family office?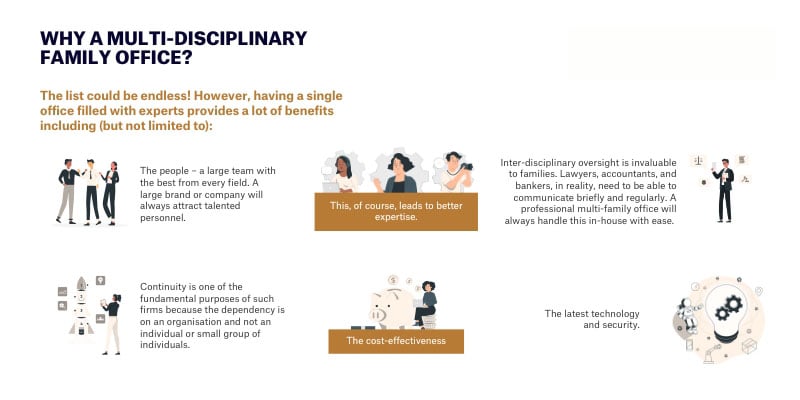 The list could be endless! However, having a single office filled with experts provides a lot of benefits including (but not limited to).:
The people – a large team with the best from every field. A large brand or company will always attract talented personnel.

This, of course, leads to better expertise.

Inter-disciplinary oversight is invaluable to families. Lawyers, accountants, and bankers, in reality, need to be able to communicate briefly and regularly. A professional multi-family office will always handle this in-house with ease.

The cost-effectiveness.

Continuity is one of the fundamental purposes of such firms because the dependency is on an organisation and not an individual or small group of individuals.

The latest technology and security.
Why Endevio?
As mentioned earlier, family offices can assist you in each step. From determining a suitable asset to choosing the apt investment policies and setting up investment structures to providing fund managers and the most effective legal structure, these firms have expertise in handling it all.
Our firm can provide fund and investment services across the Schengen countries and Caribbean islands, with an extensive network of banks, fund managers, and asset managers in all major asset classes. While we do not act as an asset manager, we monitor, report on, counsel, and coordinate your wealth and assist with asset managers and/or fund selection as required.
To provide effective and efficient services, we ensure that we follow transparency in the accounting and reporting of family assets. We will provide you with an easy, periodic wealth overview. In addition to reporting, we actively monitor and analyse asset-manager performance, proactively engaging them directly to discuss their performance and tactical decisions. Our effective accounting systems ensure that performance can be properly analysed, portfolios comply with investment guidelines, and relevant information is available for proper tax assessment.
Our office and team of experts ensure that you achieve your goals, mitigate risk and nurture prosperity. We assist families and individuals through our team of experienced professionals, by taking a structured approach and ensuring a sustainable strategy in:
Estate planning

Legal advice

Consolidation

Budget and cash flow management

Trusteeship



We recognise that every family business has its history, culture and family setting. With relevant experience and competencies across various areas, we provide a holistic service that is tailor-made to the client's needs. We adopt an independent approach to the differences in personality between the generations and the strategic direction set by the stakeholders.